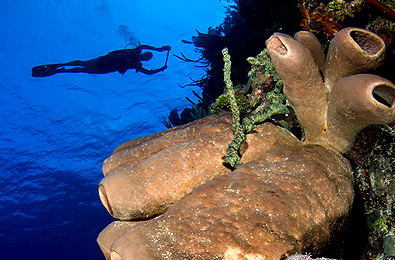 CCMI seeks to hire innovative, creative, early career scientists who can make great discoveries.
Please check regularly for new opportunities to join our team.
JOB VACANCY:
Marine Field Station Manager
Reports to: Director of Operations
Summary
The Field Station Manager is responsible for the effective day to day operations at the Central Caribbean Marine Institute (CCMI). The position is available for a seasoned professional with at least 10 years of professional experience in marine operations. The successful candidate will manage and maintain the physical facilities, equipment (boats, SCUBA, vehicles, Coral Reef Early Warning System – CREWS), and renewable energy and composting systems (including passive and PV solar). The individual will support field station personnel by providing logistical support for scientists and groups which use the research station, including universities, local school groups, and citizen science groups. The individual will facilitate programs and maintain excellent working relationships with scientists and students of all ages while they are visiting the facility. He/she will improve the sustainable practices and will assure safe marine and dive operations. The Field Station Manager will help implement the organization's strategy to become the leading marine research institution in the Caribbean.
We seek a strong operational leader who can assure safety, excellence, and who is capable of providing field support for leading marine scientists and universities. The individual should have experience working in community, local and international government, and sponsor relations.
CCMI is an independent non-profit organization within the Cayman Islands with a scientific mission to make impactful discoveries that will lead to healthy oceans and vibrant coral reef ecosystems. We maintain a well-equipped marine field station on Little Cayman, with year-round visiting and residential research and education programs. All Little Cayman employees work a 6-day week and as a professional employee you may be required to work long hours especially during the high seasons.
Responsibilities:
Implement the annual maintenance plan for the facility and grounds, keeping boats, vehicles, and dive equipment renewable energy, and composting in excellent repair, conducting repairs and maintenance in-house when possible.
Implement the highest level of safety standards including all in-water activities, boat and dive operations, facilities and insurance
Enforce Emergency Management program to minimize risk to staff and visitors including for all on water activities and for major storm and hurricane preparations.
Enforce and develop sustainable practices including reducing water/energy use and minimizing waste disposal and introducing new potential technologies
Maintain, troubleshoot, and upgrade all utilities (e.g. phone, electricity, internet, water, sanitation)
Responsible for station inventory (e.g. food, office supplies, kitchen and dorm supplies)
Track activities and provide operational information and statistics to our development team
Assure the CREWS is maintained
Provide logistical support for the educational and scientific groups
Assist with scheduling facilities for annual visits
Schedule vehicles and equipment for visiting groups
Manage permitting as needed for seasonal, part-time and full-time operational staff, complete time and effort reports
Assist with office admin, manage interns and operations personnel
Provide Director with quarterly activity and budget reports
Receive and ship supplies and equipment (e.g. barge, airport), including all customs, duty, permits, and fees
Ensure all insurance and licensing is up to date
Benefits and Salary
Competitive salary commensurate with experience
Work permit fees
Benefits include financial contribution to health insurance, and a 5% matching pension plan after a full-year of employment, vacation pay, meals at the field station when present.
Qualifications
Master's degree or 10 years of equivalent experience in marine operations
Capable of being a strong leader with excellent decision-making skills
Ability to diagnose, troubleshoot, and maintain all systems at a remote field site, including boats, vehicle, dive compressor, solar, utilities, computers (IT systems) and other off-the-grid systems
Diver certified (min Instructor or Divemaster certification), extensive boat handling experience, and good working understanding of scientific research operations
Ability to manage budgets, work on several projects simultaneously, and manage priorities accordingly
Experience coordinating efforts and establishing excellent working relationships in a small community, with government agencies, and with board members
Familiarity with Microsoft Office; working knowledge of QuickBooks
To Apply:
For consideration, please forward resume and letter of interest along with salary requirements to: jobs@reefresearch.org.
INTERNSHIPS
The Central Caribbean Marine Institute maintains active field research and education programmes in the Cayman Islands supported by a team of scientists, educators and operations personnel. We seek versatile, energetic, highly-motivated, mature individuals to work as interns supporting our programmes and activities. Our internships are 3-6-month paid work experiences for Bachelor's and Master's level early career scientists and environmentally aware individuals. The successful candidates will be actively engaged with a vibrant community of visiting and resident researchers, educators, and students. All CCMI interns should be highly capable college graduates. The work requires strong individuals, willing to work 6 days/week under some strenuous conditions, whilst living in a small island community. Interns receive a small living stipend, room and board at the research station, health insurance and some reimbursement for travel.
Research interns support the research program and must have a working knowledge of coral reef ecology and conservation to be considered for the position.
Education interns assist with the K-12, college and citizen science programmes and must have a working understanding of livestreaming communications and virtual learning.
Operations interns must be dive masters with all-around maintenance skills. The Field Station Intern assists the manager in all administrative and logistical activities related to visiting and resident groups.
EDUCATION INTERN (Available 1 March 2018)
The education intern supports our education manager and science and society coordinators who lead a vibrant educational programme. Currently, our programme is expanding to include virtual learning with underwater communications systems, as well as our well established field courses for children and college students. The position will also entail assisting in curriculum development, developing livestreaming courses, as well as hands-on teaching. When not engaged in teaching, the individual will assist with operations activities. All interns assist the field station manager with the general operations including, for example, helping with meal services, facilities maintenance, giving tours and talks and helping with preparing boats for field work. We seek a well-organized individual with excellent communications skills, a degree in marine science and experience in teaching coral reef ecology and biology. Must be a minimum of Rescue Diver certified or equivalent.
Additional Qualifications
Master's degree preferred with 1+ years of field, lab, operations, or teaching experience
Interns should have some of the following skills:

GIS, reef surveying, underwater mapping, videography and drone mapping
Social media, graphic communications, and science writing experience
Boat handling, boat maintenance, physical plant maintenance
Scientific diving skills with rescue diving certification,
Teaching marine science and conservation at the k-12 or college level

Excellent analytical, problem solving, writing and communications skills
Other Information
Our Employment Offer is contingent upon approval of a Work Permit issued by the Cayman Islands Immigration Department. Position includes room and board (3 meals per day), monthly stipend, travel allowance, and health insurance. Little Cayman is a remote tropical island with fewer than 200 people. Marine protection has been in place since the mid-1980s making this an ideal location for coral reef research and education. The research station aims to produce excellent research in coral reefs science and provides some regional leadership in marine conservation and education. We will hire the best candidates on a rolling basis so apply early. CCMI is an equal opportunity employer.
To Apply
Send a single file with your 2-page (max) resume, letter of interest, and names of 3 references to jobs@reefresearch.org. Include "Education Internship" in the subject of the email.