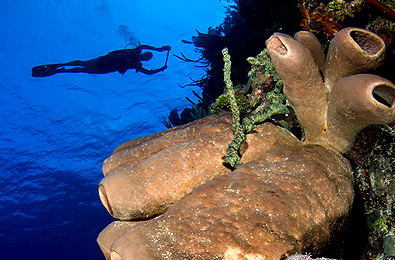 CCMI seeks to hire innovative, creative, early career scientists who can make great discoveries. Please check back regarding additional positions available in the future.
CCMI is seeking a new director to develop and implement a strategy that will establish CCMI as a globally-recognized premier field research institute in the Caribbean. The new director will lead a well-funded research program and establish a vibrant collaborative community working together to incubate new ideas to address contemporary issues facing coral reef ecosystems. Read the full position description HERE.
The Central Caribbean Marine Institute in the Cayman Islands seeks an experienced Research Manager to help plan, coordinate, execute and maintain field and lab research projects at the Little Cayman Research Centre. The work involves overseeing safe research dive operations including technical diving, maintaining research equipment (lab, dive, boats, field), building and maintaining flow-through seawater systems and other installations as needed by research projects. The research manager will assist the Director with planning field surveys, data collection and data management and reporting. CCMI conducts coral reef ecological research, maintains a long term monitoring program, a Coral Reef Early Warning System oceanographic buoy, and a coral nursery with related experiments.  The individual supports and reports to the Director of Research/Distinguished Scientist. We seek a versatile, energetic individual who can manage excellent lab and field research experiments under the direction of the lead scientist. Full position description and instructions on how to apply HERE.
CCMI Coral Reef Internship Programme
SKILLS & EXPERIENCE TO PREPARE YOU FOR YOUR FUTURE IN MARINE SCIENCE
Internship Overview (click for full internship overview document)
Internships at the Central Caribbean Marine Institute (CCMI) provide an exciting opportunity for early career scientists to gain real life experiences in marine science education, communications, research, and field station operations. We maintain active field research and education programmes in the Cayman Islands supported by a team of scientists, educators, outreach and communications coordinators.
As an intern you will be actively engaged with a vibrant community conducting field and laboratory studies, science diving, analysing data, teaching and leading courses, and gaining experience with the day to day operations of a vibrant marine research station. The work requires competent, motivated individuals who are capable of strenuous work 6 days/week in a small, tight-knit community on a remote island. Internships are for 3 months with the potential to extend to 6 months.
Internship Calendar
Term                   Application Deadline      Programme Dates
Spring 2020          October 15, 2019            January 5- July 5
Summer 2020       January 15, 2020            April 15 – September 1
Winter 2020         July 1, 2020                    Oct 15- April 15
Spring 2021          October 1, 2021             January 5 – July 5
Fees
Interns are required to pay an internship fee of $1,500 USD per month. This includes three meals per day and shared dormitory style accommodation at the research centre, all transportation to and from the airport and field station, work/office space with internet. All of your field costs are covered by the project grants, including scuba gear if needed.
Fees do not include your airfare to Little Cayman, health or DAN insurance. Please see below for select scholarship opportunities, which are available for certain applicants or key skill/programme needs.
Scholarships
The Ocean Science Scholarship is a full scholarship open to Caymanian residents only.
The Reefs Go Live Media Internship is also a full scholarship, open to application nationally and internationally. This internship is looking for media specific skills, ideally underwater camerawork and video production.
We also have limited scholarships available to interns throughout the year who have already achieved their MS degree. This is a competitive programme with high numbers of applicants who are evaluated based on experience, merit, and need. If you wish to apply for a need-based scholarship, please include a 1-page scholarship cover letter with your application, which explains your need and how the programme can help you achieve your career goals.
The following internships will be offered throughout the year (click on each internship for detailed information):
Research Internship
Education Internship
Field Station Operations Internship
Ocean Science Scholars (Caymanians only)
Reefs Go Live Media Internship
To Apply
Apply by sending your CV, cover letter explaining what your career goals are and how the internship will advance your career as well as why you are an excellent candidate. Include the name and email address of 2 referees.
Please include all of these documents as one PDF to our email address at manager@reefresearch.org
In the subject line of your email:
1) Indicate which internship you are interested in (research, education, field station, Ocean Science Scholar, Reefs Go Live Media Internship)
2) Indicate the term you are applying for (Winter, Spring, Summer).